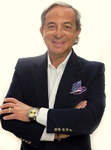 Angelo Rebelo
Clinica Milenio, Portugal
Biography
Angelo Rebelo has concluded his medicine studies in the Faculty of Medicine of the University of Lisbon, Portugal in 1980 and he became a specialized in Plastic, Reconstructive and Aesthetic Surgery in 1990. Since 1997 he opened his own outpatient private clinic for aesthetic-plastic surgery in Lisbon, Portugal, in the last 18 years, he's in exclusivity at Clinica Milénio in Lisbon - Portugal, as Clinic Director and Cosmetic Surgeon. He is precursor in several techniques of Cosmetic Surgery performed under Local Tumescent Anaesthesia and outpatient. Internationally, he has been invited to teach and perform several surgical demonstrations in many countries. He is frequently sought out by the medias as an authority in his field. His surgical techniques and advancements have been the subjects of interviews in Portuguese and international media, he's also author of numerous videos, lectures and articles presented at congresses and scientific journals. He is also an active member of several Professional Societies and Associations through the world.
Abstract
Is a very popular procedure, which will create cosmetic fullness in the lower leg and can help those men and women who, even after extensive muscular development, can't achieve the calf muscle toning which they desire. Many men and women feel dissatisfied with the shape and size of their calf muscles. Despite exercise, diet and training, sometimes it is difficult to achieve the calf muscle tone desired. Calf implants are also suitable for lower leg sculpting and to correct any muscle imbalance, so you can enjoy shapely, firm calf muscles that add to the definition of your overall leg shape. The goal is to create cosmetic fullness in the lower leg, enhance the legs. The surgery is performed upon a patient under local tumescent anesthesia with sedation as an outpatient. The anesthetic formulas are:

Oral sedation

(30 – 60 min before "PER-OS")
Lisina clonixinato - 250 mg
Hydroxizine - 50 mg

IV Sedation (By Anesthesiologist)

MidazolaN 15 mg/ml
Fentanil 0,05/ml
Propofol 1%

Anesthesic Solution

Saline Serum - 15 CC
+ Lidocaine 2% with adrenaline - 5 CC
The operating time varies between 30 to 60 minutes. The draw is made with the patient in a stand up position. The anesthesia is done within the incision line with Lidocaine 2% with adrenaline and the solution in the proximal operative area. The 3-4 cm popliteal incision is made and the sub-fascia undermining with specific forceps. It's a blind and clean undermining. With a specific forceps the implant is placed underneath the leg fascia in the pocket previously made for and over the medial and lateral bellies of the gastrocnemius muscle. Calf implants are cohesive gel and don't leak. The desired shape and size used depends on your existing form, goals, and physical limitations. Obviously, only implants that can safely fit in your legs can be used. The trend is to use longer calf implants that continue from 2 inches below the knee to 3-4 inches above the ankles.

Postoperative Care

Use for about 3 weeks comfortable shoes that have heels. Men usually wear boots with higher heels. Heels reduce the stretch on the calf muscles during recovery. No dress. Panties 70 DIN 3 weeks. Antibiotic IV intra op and oral one week. Analgesic S.O.S.

Postoperative Care

AdvantagesAmbulatory, less or no bleeding, better recovery, less expensive and long term results.